Yeah, I know that's kind of weird title for a blog, but it seems to fit.
Sometimes when I am in teaching in the classroom, I'll tell students, "We are going to ketchup, so don't give me any mustard."
Okay, so you may not think it is that funny, but kids in kindergarten through third grade think it's worth a chuckle. And kids in fourth through sixth grade, chuckle because they think I'm dorky.
My point is, I am writing to CATCH-UP.
This past Saturday, my athlete, Orietta, and I participated in the Pasadena Triathlon. I had another athlete sign up months ago when the race was still cheap. It turns out the athlete couldn't make race day because of a vacation, but was able to transfer her entry to Orietta. Orietta is training for the Wildflower Long Course, but a FREE reverse sprint triathlon is a good way to work on some speed and get in a nice workout....and have some FUN!!!!
When we got to Pasadena, Orietta realized she had her gym "spin" shoes in her bag, and NOT her bike road shoes. The cleats on her "spin" shoes did not match the pedals on her bike.
She was going to have to ride her bike with her running shoes and try to manage pedaling on a small piece of medal.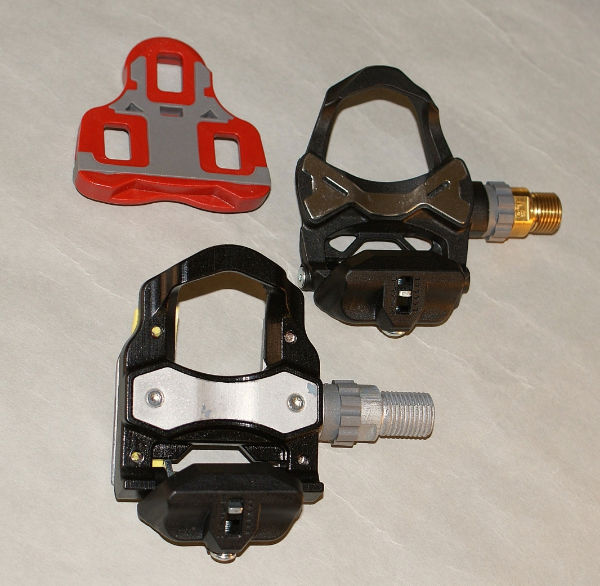 Her pedals look something like the ones above. Her shoes did NOT have the red cleat on them. They had this cleat.
Orietta placed second in her age group division. She was 1:17 behind first place.
Whether riding in her running shoes AND not being clipped into her bike made a difference, we can only guess.
But my guess would be - YES - it made a difference.
Lesson learned? Always go through your race bag and make sure you have all the proper equipment.
Orietta and I in transition before race.
I spent the rest of Saturday working in my yard and cleaning my house.....and my bike.
Sunday, I tried to take my daughter and another resident at the board and care where she lives to the Loma Linda Inclusion 5k. It was the first year for the 5k walk/run and is meant to show that even with disabilities, people can be athletes and be included.
My daughter and the gentleman, who told me he ran track in high school years back, both have a disability.
But even with their disabilities, they could walk/run the 3.1 miles.
Only on this day it was NOT possible.
My daughter and I were ready for the event, but the gentleman we were taking with us was not used to taking his medication AND getting up in the morning.
He did get up AND he did take his medication, but by the time we were parked and saw the start line, the guy was a noodle.
My daughter and I looked at each other and we knew we were not running - not even walking - anywhere with him.
Then I ran about 4 miles.
I needed to get some strength training in, so I turned all four of my compost bins.
These aren't my bins, but you get the idea that I had to use a pitchfork and some muscle to turn the load over. When done, the top layer ends up being on the bottom and the bottom and middle are mixed together on the top.
I was hot, sweaty, stinky and felt great!
The weekend ended on a great note.
I loaded my car full of triathlon friends and we drove to Redlands for the California Triathlon chapter kickoff party.
One of the people who drove with me won a canister of sports drink and I won a pink running hat. I "raffled" it off to one of my "tri" friends on the drive home.
We don't have a California Triathlon Chapter in Riverside.
Put April 27 on the calendar because it may be the start of something.