I wasn't sure how I was going to feel about the Tour de France this year. I had been a LOYAL fan for years. I was even a you-know-who fan.
Then you-know-what happened.
I just didn't think the Tour would be the same.
My blog about it, in case you didn't read it:
So this year, I sat down to watch the Tour with trepidation, concerned I would not feel the same away about it.
I am happy to report that my "boyfriend" has changed.
He's had a make-over and is way more fun.
The Tour started off with the ORICA GreenEdge team bus stuck under the finish line.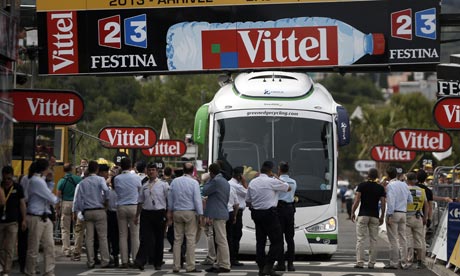 I was on the edge of my seat.
It wasn't the only time during the Tour that the Orica GreenEdge team brought a smile to my face.
It seems that those guys are not only pretty good cyclists, I mean, two of their team members donned the yellow jersey during the Tour, but it appears they like to have fun.
Not only did they make the Call Me Maybe music video...
They also made a tribute video to AC/DC.
And they weren't the only ones with the blow-up OGE guitars. They handed out lots of them to the Tour fans and then put the fans in a music video.
And if that's not entertaining enough, you can follow OGE through their BackStage Pass on youtube.
Any stage of the Tour....they have a video of behind the scenes. Some are serious, but most are pretty funny.
And the fans...what can I say about the crazy ass fans other than they are crazy ass!!!!
In case you didn't see enough of them in the above videos, here some pics.....
There always seems to be a banana.
Some people ran way too close to the cyclists. A couple of times I thought a runner would take out some of the cyclists. I guess one spectator was worried about that also and took matters into his own hands, I mean feet.
Congratulations to all the winners!
Congratulations to all 169 riders who finished the Tour this year.
Congratulations to Svein Tuft, ORICA GreenEDGE team member for coming in last place, but coming in non-the-less.
The Lanterne Rouge goes to Tuft.
Tuft shouldn't feel too bad, I got a red lantern also.
Last year I had set a goal to ride 25 percent of what the Tour cyclists did....544 miles, or 23 miles a day.
My intention was to ride EVERY DAY of the Tour, even on the pros' rest day.
I didn't quite make my goal last year, so I decided to try again this year.
Yeah, I didn't make it this year, either.
Next year....only 354 days to go.