After Stage 1 of the Tour, my faith has been somewhat restored and I will stick with the Tour (aka - my boyfriend)this year.
While I am not necessarily convinced of my boyfriend's truthfulness about not doping, I am willing to give him the benefit of the doubt.
I am not sure, though about his friends....the people who are running the Tour.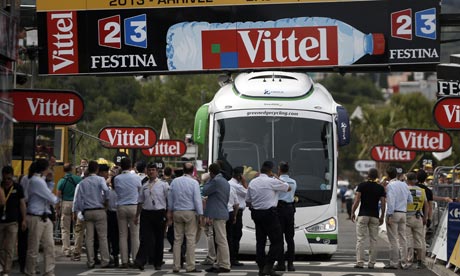 Since this was the scene at the finish line just less than 15 minutes before the cyclists were due to roll in, I can only surmise that many of them had done drugs before this incident, or will now turn to drug-use after this incident to dull the pain.
Here's a close up....so either the GreenEdge bus did not read the warning sign on how low the finish line was, or someone put the finish line too low. Either way, someone is in trouble.
TROUBLE!!!
I bet they are trying to get a hold of some drugs right this minute.
And FYI - I am NOT condoning the use of drugs.
I recommend meditation, yoga and bike riding.
Oh wait, bike riding is what caused this whole ordeal.
Better stick with yoga and meditation.
The GreenEdge team bus got caught under the finish line. The finish line was then changed.
Then the bus became unlodged and was moved.
Then the finish line was moved back to the regular finish line.
Then there was another crash.

At that point, who really cared about the finish.
Johnny Hoogerland, who was hit by a television vehicle last year, throwing him into barbed wire and causing him to get 33 stitches after he finished the tour, was the first to hit the ground today.
He hit a barricade/fence that had been put up.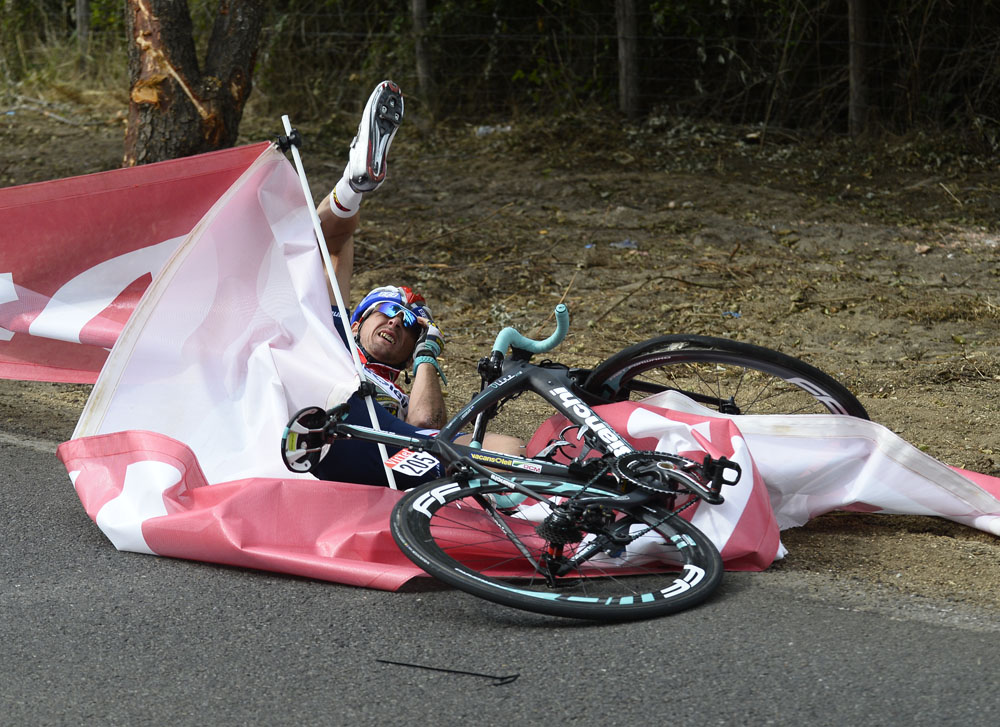 But not as bad as last year.
That's a double OUCHY!!! AND he finished the stage before he got his stitches.
(HE IS ON MY FANTASY TEAM THIS YEAR!)
The second crash today was a massive pileup taking out a lot of the top sprinters.
Down went Mark Cavendish.
So the question was - who would be left to sprint to the finish and exactly WHERE would the finish line be?
The stage winner was German Marcel Kittel.
He finished....wait, he didn't finish last year's Tour.
He pulled out after stage 5 because of a viral infection of the stomach.
But on Saturday, June 29, Kittel was the winner of Stage 1 of the Tour.

And what a way to start the tour.
Not only can I not turn away, but I'll ride the Tour, too....
I went ahead and signed up for mapmyride's Tour Challenge.

My goal is to ride every day that the cyclists ride....except for today's Stage 1.
Really, I had to see how the Stage went and how I was feeling about the tour all together.
And to be honest, until I saw two guys on bicycles hanging by wires over a river about 65 miles into the stage, I wasn't too sure that the fans were going to be able to hold me through the 21 days of racing.
The last 20 minutes of chaos was MORE than I had ever hoped for...so I signed up again for the Tour Challenge.
Last year I had set a goal to ride 25 percent of what the Tour cyclists did....544 miles, or 23 miles a day.
My intention was to ride EVERY DAY of the Tour, even on the pros' rest day.
I didn't quite make my goal.
I am going to try again this year.
My goal is to finish....even if I get the red lantern.
Don't know what the red lantern is?
You can read about it on my last year's blog:
http://train-n-tri.blogspot.com/2012/07/until-next-year-tour-de-france.html
Jimmy got the red lantern last year.
He's not in the Tour this year.
I am.
I haven't even ridden and I am already ranked.
OVERALL RANK
RANK TODAY
OUT OF 12083 PARTICIPANTS
TOTAL
MILES
I love that some people in mapmyride's challenge have already ridden 150 miles today....MORE than the Tour cyclists.
Yeah, they probably didn't have a team bus stuck under a finish line to contend with.
Bike on!