Ask a Triathlete what their favorite part of the "tri" is and the fast runners will say running, and the fast bikers will say biking, but I have yet to find a Triathlete that LOVES the swim part of the triathlon better than the other parts. I know a lot of fast, speedy swimmers and none of them have said their fav part is the swim. If I am wrong in this, let me know.
I am not a fast runner, nor a fast biker, and barely a swimmer. But I LOVE the biking part of triathlon and I tolerate the running part, and live through the swim part. Yet when all three things are put together I giddily LOVE the event.
This year I have already stated my goal to increase my mileage in all three areas. Maybe increasing my mileage will increase my speediness. Maybe. Hopefully?
My biggest FEAR is the open water swimming.
That issue was solved today when I went to my "Spiritual Book Club" meeting. My mom started the group with three of her friends, my sister and I. Every month we read a book and talk about it. All the books are uplifting.The last book we read was "Great Quotes from Great Women" compiled by Peggy Anderson. This week we sat around the table and told our favorite quote from the book.
My favorite - "

Never underestimate the power of dreams and the influence of the human spirit

" - Wilma Rudolph 1940-1994.
Wilma was one of 22 children and she contracted polio when she was young. She always believed she would walk someday without braces because her mom continually told her so. Wilma went on and became the first woman to win three gold medals in track and field at the Olympics. That was in 1960. Wilma died in 1994 of brain cancer. But she is a hero to me, overcoming great odds all because she believed. Wilma started the "Wilma Rudolph Foundation" to provide free coaching in a variety of sports and academic assistance. That is awesome.
Okay, so now I am feeling more positive about everything. I mean, come on, If Wilma can overcome polio and win three gold medals and help kids be better athletes and students, surely I should be able to overcome my little fear of deep water and swim a mile in a lake. If she can overcome great hurdles, so can I (hurdles of my brain).
Sometimes at our "Spiritual Book Club" people have shared books they are reading. The list includes "The Secret," "The Power of Now," "Zero Limits," etc...you get the drift.
These are the empowering books I have shared with my "Spiritual" group - "Can't Swim, Ride, Run" by Andy Holgate - from Common Man to Ironman.
"The Grace to Race - The Wisdom and Inspiration of the 80-year-old World Champion Triathlete know as the Iron Nun" by Sister Madonna Buder.
"You Are An Ironman" by Jacques Steinberg - how six weekend warriors chased their dream of finishing The World's Toughest Triathlon.
and "Every Second Counts" by Lance Armstrong.
Well, I don't think my "Spiritual Book Club" friends thought my books were too spiritual, but they didn't read the books so they don't really know. I think that athletes and Triathletes, most of all, call on their God and Angels a lot to get through their ordeal, I mean their event.
Uhm, that image may be a little over the top, but I pray the most when I am in deep water. "Please God, don't let me die out here." "Please God, keep me safe and buoyant." "Please God, let my feet touch the bottom."
Today at my book club my sister offered up a specific Angel to look over me. (Thank you God! I need an Angel.) My sister did an "Angel Reading" for each of us.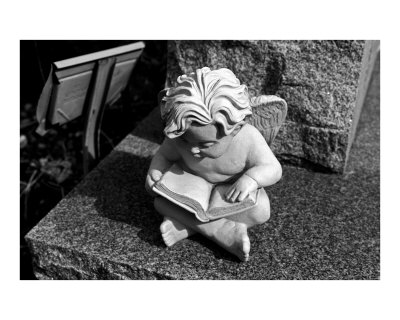 She shuffled her cards and asked if I wanted her to read the one she "threw" out or if I wanted to pick one myself. HELLO! I want total control of what card gets read for me, as if I would ever let her pick me card. NO WAY! I politely said, "I'll pick it." Anyway, I think I said it politely, even though in my head I was screaming, "NO! YOU CAN'T PICK FOR ME!"
She shuffled and I picked -
Archangel Michael........

No matter the situation, no matter the challenge, Michael stands ready with his sword and host of Angels to protect and serve all who call upon him for assistance. He clears the path of obstacles, he gives us strength and courage to carry on during the dark times in our lives. He fills us with hope, inspiration, and faith that the Universe is always on our side. Michael protects against negative or psychic attack and astral debris that can cling to our energy fields......
Okay, he does other stuff too, but I am going to use him for my swimming. Every time I get in the water I am going to call on Archangel Michael to bring forth his sword and all his Swimming Angels (angels can swim, right?) and protect me and bring me strength, and help me with my bilateral breathing and not get out of breath, and keep fish away, and keep waves away so I don't get dizzy and nauseous, and keep diapers out of Lake Perris so I don't get some strange disease and please, please, please, oh, please, keep me calm so I don't flip over on my back and backstroke....AMEN!